Okay, this really has nothing to do with anything, except that it made me smile (behind my hand), which probably says something bad about me.
A couple of weeks ago I was in church. (That's not the bad part, so just stop right there.) Anyway, I was in church, and a little kid in front of me was playing with one of those board things that you lace a shoelace kind of string through. You know what I'm talking about, right? No?
Okay, it looks like this.
(Can I just say how hard it is to find a picture of a toy when you have no idea what it is called? You type in "board that you lace string through" and get a racy picture of some woman's leg. GET BACK HERE YOU PERVS!)
(It appears the toy may or may not be called a "lacing board" for future reference)
Anyway, the kid, who looked about a year and a half old, was clearly confused on how to use his lacing boards. (See I can be taught.) He would lace his string through a couple of holes in one board. then start in on the holes of another board.
His mother kept unlacing the boards and showing him how to do it the way the toy was designed. But a couple of minutes later, he would pull the string out and start it his way again. Finally she gave up and let him do his thing.
I should have been listening to the speaker, but I kept finding myself distracted by what the kid was doing. After about fifteen minutes of studious work, he had managed to tie four boards and three laces into a device about three feet long.
Quietly, he dragged his creation out to the end of the bench, and, swinging like a pint-sized David about to slay Goliath, managed to hit a lady who looked a lot like this in the head.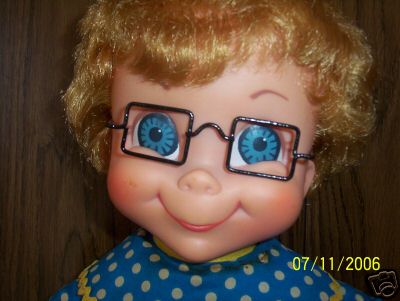 Except that she wasn't smiling like that after she got whapped in the noggin by a toddler with a lethal set of lacing board nunchucks.
Now I know you're expecting some kind of writing-related message here. Surely I wouldn't post a story like this simply for its deviant humor.
Okay, message for the day. Just because most of your friends or family think your story should go a certain way, doesn't make it right. Stick to the vision in your head and maybe you'll knock someone out. (Figuratively speaking.)